[New Product] XC 4000-2SP
2020/11/18 17:25:52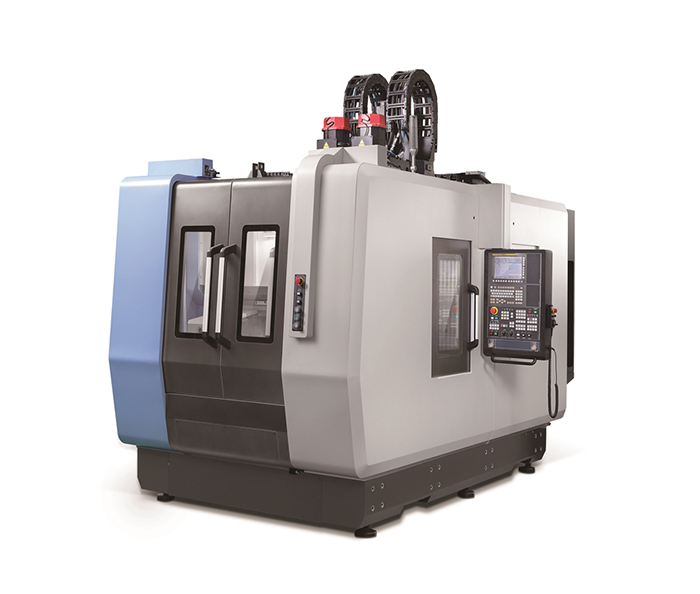 High Productivity 2-spindle Column-moving VMC XC 4000- 2SP
XC 4000-2SP is a 12000r/min high speed direct-coupled 2-spindle machine that boasts doubled production efficiency compared to single spindle machines. Using A and C axes, this high productivity vertical machining center with 4000 mm class Y-axis and 2-spindle is not only capable of machining complex parts but also suitable for the mass cutting of parts and automated production line.
XC 4000-2SP series is the vertical machining center capable of providing high productivity and high-speed machining capacity and has a product lineup of XC 4000D-2SP, XC 4000DA-2SP, and XC 4000DAC-2SP.
Built with Structure Optimized for High Productivity
XC 4000-2SP is a Y-axis 4000 mm class 2-spindle vertical machining center with mineral casting bed that withstands high acceleration performance and provides optimum stability. In addition, this machining center is equipped with double-row ball screw and the linear scale for all axes as standard, providing durability and enhanced feeding system rigidity. Also the magazine is placed at the bottom of the column to avoid affecting high speed machining. With two spindles operating simultaneously, machining efficiency is 2 or 4 times higher than common machining.
Higher Degree of Operation Safety and Precision
This machining center is so designed that 2 spindles are integrated into the body of the machine ensuring structural rigidity. Also made available as standard are HSK 63A class direct coupled spindle, functions of spindle cooling, and sensor type thermal error compensation. All these are intended for higher productivity, a quiet work environment, and highest possible cutting accuracy. Optimized specifications including max. spindle speed of 12000 r/min, max. spindle motor power of 15/7.5 k, and max. torque of 95.5 Nmn ensure high speed and high precision machining.
Flexibility for Customization
XC 4000-2SP has a stable structure optimized for higher productivity that boasts of APC change time of 5 seconds, With 3-axis dual table, 4 axes (A axis added) and 5 axes (A+C axes added) tables type, the model has been designed as a module type to be suitable for various applications. XC 4000-2SP is also suitable for automation using robot or gantry loader and provides the screw conveyor as standard for better chip discharge. Flushing/shower coolant system is ideally arranged to ensure highly productive machining works.